Waiting in Surya (comic)
From Rice Boy Wiki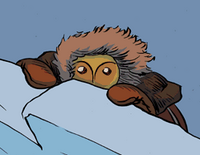 Waiting in Surya is a comic by Evan Dahm that was published on his website and made November 2009<ref>http://twitter.com/evndahm/status/6164196447</ref>. It tells the story of Calabash and a stranger surviving the colds of Surya. This is the first short story to be published by Evan and spans 14 pages.
Waiting in Surya takes place somewhere in the seventh century of the Red Age of Overside, meaning it happens about two centuries prior to Rice Boy. Some time after leaving Wusterim, Calabash visits a Cartographer to inform him about Suryan geography, as shown in the print "The Cartographer".<ref>http://www.rice-boy.com/store/cartographer.php</ref>
Characters
Published Edition
For SPX 2010, Dahm combined Waiting in Surya and The Tethered Isle into one softcover book entitled Short Stories from Overside.<ref>http://twitpic.com/2laz8f</ref> It is unknown whether this will become available to order online, or whether it will appear at future conventions.
Links
References
<references/>