Rice Boy (comic)
From Rice Boy Wiki
Rice Boy is a comic by Evan Dahm that ran on his website for two years, from April 2006 to May 2008<ref>http://riceboyart.livejournal.com/25288.html</ref>. It tells the story of Rice Boy, who is chosen by The One Electronic to fulfill an ancient prophecy. The story is organized into five books, and spans 439 pages.
The plot of Rice Boy takes place in Red 854, although an exact date for any of the specific events is unknown.
Published Editions
Rice Boy: The First Book and The Second Book
From roughly June 2007 to March 2008,<ref>http://web.archive.org/web/*/http://www.lulu.com/content/484018</ref><ref>http://web.archive.org/web/*/www.lulu.com/content/906939</ref> only the first two books of Rice Boy were available in print. They were sold as separate volumes at Lulu.com. The first book was 124 pages, and the second book was 122 pages. Both were full-color and measured 6" by 9".
Both the first and second books contained a number of pieces of guest art. Artists that contributed to the second book's fanart section include Aaron Diaz (also known as Dresden Codak), and Ryan Armand, creator of Minus and Great.<ref>http://riceboyart.livejournal.com/15200.html</ref>
First Edition
In July 2008, a softback version of the complete comic was made available for purchase at Comixpress.com, a print-on-demand site. This edition was 5" by 8", and contained the full five books along with history, maps, and other supplementary material.<ref>http://riceboyart.livejournal.com/25437.html</ref>
Second Edition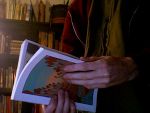 The second edition became available for preorder in January 2010.<ref>http://riceboyart.livejournal.com/56602.html</ref> Dahm decided to sell the books himself, instead of through another vendor. The book's size increased to 6" by 9", but other than that it is identical to the previous version. The second edition is sold at conventions with a half-size wraparound cover,<ref>http://twitpic.com/1kqaw2/full</ref> with blurbs on the back from Jeff Smith, Aaron Diaz, and El Santo from The Webcomic Overlook.<ref>http://twitpic.com/1ixbxk/full</ref>
Preorders of this edition were accompanied by Making Rice Boy, an art book that contains original art and comics originating from the development of Rice Boy.
On 9 March 2011, Dahm began a 6,000$ Kickstarter project<ref>http://www.kickstarter.com/projects/evandahm/the-rice-boy-book</ref> aimed at funding a larger print run, along with a limited hardcover edition (discussed below). As incentive, funders also were promised a PDF file of Rice Boy, as well as some or all of a series of mini-portraits, as described in this video. This project was extremely successful, as it surpassed its goal three days later on 12 March,<ref>http://twitter.com/#!/evndahm/status/46589567284953088</ref> as well as being featured on the Kickstarter homepage. It then passed the 10,000$ mark less than a week later, on 18 March, as it continues to grow towards its endpoint on 23 April.
Hardcover Edition
Dahm offered a limited-edition run of 200 hardcover versions of Rice Boy as part of the Kickstarter project described above. The books will be case-bound in white cloth, and will have a small image of Rice Boy himself on the center of the front cover. The pages of the book will be 6" by 9", which is the same size as the second edition, and will not include any extra material (outside of the original appendix and maps).
This edition is meant to go alongside the future hardcover omnibus of Order of Tales.
Translations
There has been some interest in translating Rice Boy into other languages, although only one project was entirely successful: a full translation into Japanese, which can be found at http://rice-boy.jpn.org. The title of the comic is "ライスボーイ" (Raisuboi), Rice Boy's name as transcribed in katakana. The translation project was finished in late April 2010.<ref>http://twitter.com/rb_jp/status/12928381588</ref>
In September 2007, Taikapaja, the Finnish branch of Jessor & Co., released a Finnish translation of Book 1 of Rice Boy entitled "Riisipoika".<ref>http://www.toluu.com/feeds/516191442</ref> This version is the only foreign-language edition to be physically published. However, only Book 1 was completed, as Taikapaja disbanded. In this version, T-O-E was known as "Joka On Elektroninen", or J-O-E for short.
On the Koala Wallop forums, translations of Rice Boy into Spanish and German were also discussed, although neither project bore much fruit.<ref>http://forums.koalawallop.com/viewtopic.php?p=135387</ref> The proper translation of "Rice Boy" and "The One Electronic" were major sources of discussion, as both characters' names are difficult to capture in other languages. Based on his own Spanish proficiency, Dahm himself supported translating Rice Boy as "Arrocito",<ref>http://forums.koalawallop.com/viewtopic.php?p=135939#p135939</ref> and T-O-E as "El Electronico",<ref>http://forums.koalawallop.com/viewtopic.php?p=138087#p138087</ref> for a future translation project. The same forum member that produced a partial Arabic translation of Chapter 1 of Order of Tales also created a proposed first page for Arrocito.<ref>http://forums.koalawallop.com/viewtopic.php?p=143661#p143661</ref>
There is also a Korean translation of the comic, which is still in progress.<ref>http://bighan.egloos.com/category/RICE%20BOY</ref>
Reviews
Links
References
<references/>